Update: In view of the recent outbreak of the Zika virus, Tata Motors has renamed its soon-to-be-launched hatchback Zica as Tiago. I got an opportunity to test drive this fantastic car in Goa a couple of months ago, and this is an account of the wonderfully executed launch event.

While the first day of my fantastic Goa weekend with Tata Tiago was all about fun and camaraderie amongst bloggers and a grand introduction to the weekend's centre of attraction – the Tata Tiago, day 2 centred around test driving the Tiago on Goa roads and taking on fun challenges from blogger buddies from across the country!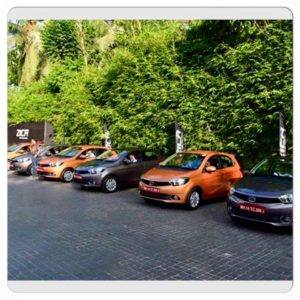 We started early in the morning and it was an exciting sight to find 20 Tiago-s glimmering under the morning sun, all prim and polished for the day ahead. Delna Avari, Head of Marketing and Services at Tata Motors flagged off the drive and we were off, zipping across the Goa roads towards the Verna Industrial Estate, an area with striking rugged landscape showcasing a very different face of Goa than what we are accustomed to seeing.
As Team D3, Dr. Roshan Radhakrishan, Ankita Singhal and I were assigned a sky grey Tiago of the diesel variant, though frankly all three of us were hoping to zip around the state in the more peppy looking sunburst orange coloured car instead. Nevertheless, we right away fell in love with our stylish looking sky grey Tiago too and were raring to go. In no time the mandatory photo-ops were done with and off the bloggers went, cruising down Goa roads.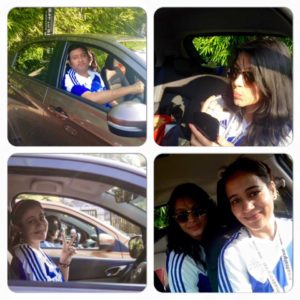 Tiago Drive
So with the affable Dr. Roshan on the wheel Team D3 set out of the resort, comfortably ensconced inside their zippy car. The next 3 hours that followed were all about fun. But oh wait – to sum our 3-hour-long Tata Tiago test drive in just one word would be a big understatement! The test drive was actually 3 hours of smooth driving, fun banter, good music – thanks to the Juke Car app – and a lot of entertainment thanks to the challenges that kept coming our way through tweeple following the drive online.
Upping the fun quotient during the drive was my pretty and super creative team-mate Ankita, and thanks to her alertness and enthusiasm, we were able to complete many a twitter challenges that came our way! From making dubsmash videos to taking beautiful photos of us, she was an amazing team-mate to have! And despite being on the steering wheel and concentrating on the road ahead, Dr. Roshan too never let a moment go without his laughter-inducing wisecracks, and was a willing partner in all our entertaining shenanigans.
Here are some photo ops that we stopped for!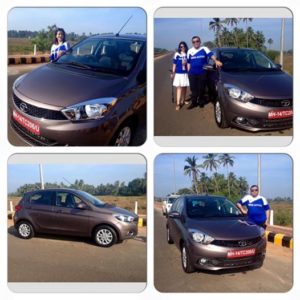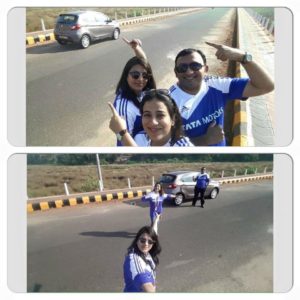 The Tata Tiago is loaded with some really interesting features. Though I will be writing about them all in my detailed review of the car, one feature that I now recall added a lot of musical fun to our drive experience was the first-in-segment Juke-Car app.  This app utilizes mobile hotspot to create a virtual network and hosts a service for sharing list of available songs in the device.  Here are all three of us talking about the Juke Car app.
The drive was so smooth and the discussion about the features of the car so engaging that we did not even realise that we had reached out destination quite ahead of many fellow bloggers. Of course, the time in hand gave us another opportunity to take photos for posterity. The more, the better!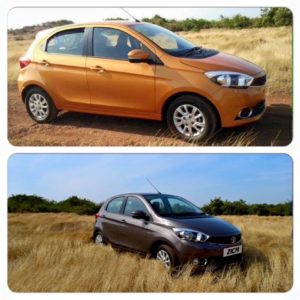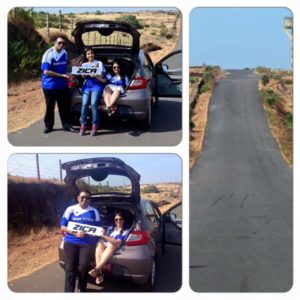 The lovely drive to the Verna Industrial Estate wrapped up with this memorable photo shoot of the bloggers posing in their Tata Motors' sponsored Messi jerseys and what a sight we made – an excited lot, taking time out to decipher the latest Tata Motors product. Here we are – 20 Messi-s too many!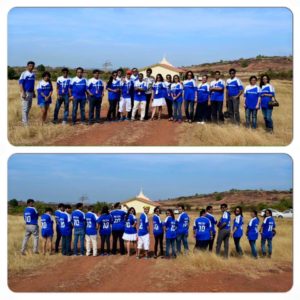 The drive back to the resort turned out to be even more fun, what with all three of us imagining ourselves to be the next international band in the making, practising (and some more practising) our vocal chords for our big imaginary debut! Too bad there was no music agent or mentor around to identify our talent and push our case. Sigh.
Once back at the resort, a lovely surprise awaited us – in fact, the icing on our awesome drive experience cake rather! VJ and host of the event Cyrus Sahukar was there, all ready to interview us all about our drive experience.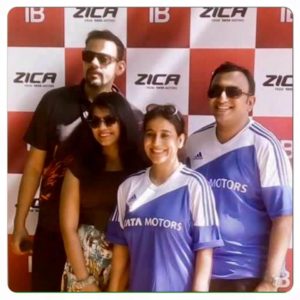 As expected, the conversation with him was a laugh riot, what with the witty banter we all indulged in. And this was the perfect moment to wrap up the fun 2-day event – with our hearty smiles giving away our state of mind.
Hope you enjoyed the post. Stay tuned for a detailed review of Tata Tiago in the next post. Happy travels!