A couple of years ago, there was an article in the newspaper that claimed that travellers who take selfies remember their trips better. I had scoffed at the article, brandishing all selfie-obsessed stuck-ups as people who knew nothing better than giving coy suggestive poses facing a front-facing camera. Either this or those weird duck faced smirks that seemed to brazenly announce to the world how so full of attitude they were. Narcissist was the word for them.
This was before I had clicked my first selfie to capture a travel moment that I believed needed to be preserved for posterity. The fact that there was no one around to take my picture prompted me to make use of the front camera of the phone, and thus that first travel selfie came about. It was not perfect but precious nonetheless, for it was a reminder of a beautiful moment caught in time.
Over the years, I have kept taking selfies off and on, framing myself in my favourite travel moments. These images are not artistic or creative, but still, I find them perfect personal souvenirs of my long solo journeys. Every time I look at them, they comfort my travel-weary body and mind and inspire me to take to the road again. Here I share a few of my favourite selfies from the road.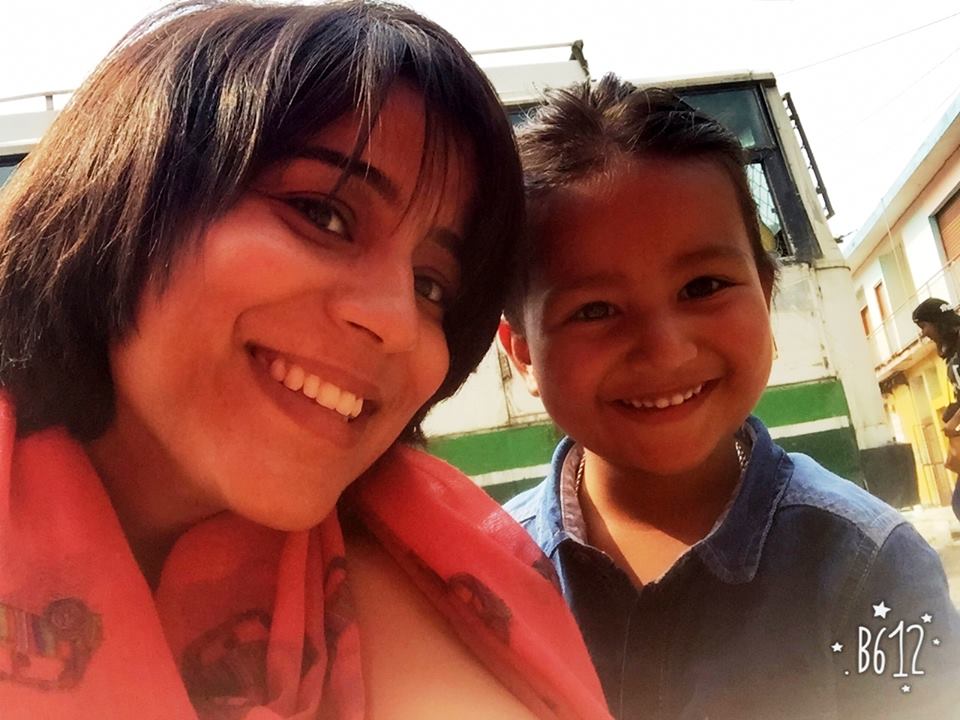 Sweet Serendipity
I took this picture, somewhere around Prasher Lake in Himachal Pradesh, while on my way back from the Prasher Lake trek. This sweet little girl and I kept bumping into each other during my trek. I first came across her at a dhaba near the Prasher temple where we waited for our Maggi and she kept showing me her new pink bracelet that seemed to be her prized possession. Post this first acquaintance, we kept running into each other over the next couple of days. On my bus ride back to Mandi, when the HP roadways bus stopped at a random dhaba for a tea break, there she was again with her family. And this time we met like some long lost friends, with beaming smiles and warm hugs. A quick photo only made sense.
Some serendipity, this.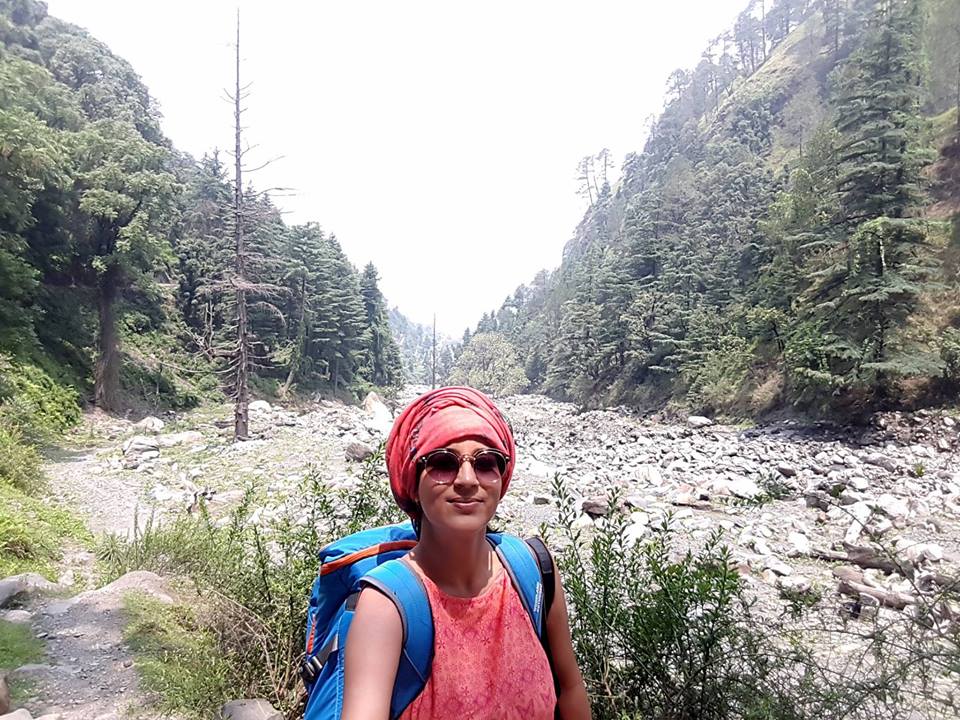 Solo Trek to Prashar Lake
The idea of going on a solo trek after a long hiatus from travelling – solo or otherwise, is intimidating. It took me an immense amount of will power and self-motivation to coax myself out of my comfort zone and set out for this one. A trek to the famed Prashar Lake in Himachal with just a heavy backpack on my shoulders and a selfie stick in my hand.
This one will remain a favourite for a long time to come. And every time I am low on energy and motivation, it will lift my spirits and inspire me to go out in the world and seek happiness the things I cherish the most – nature and solitude.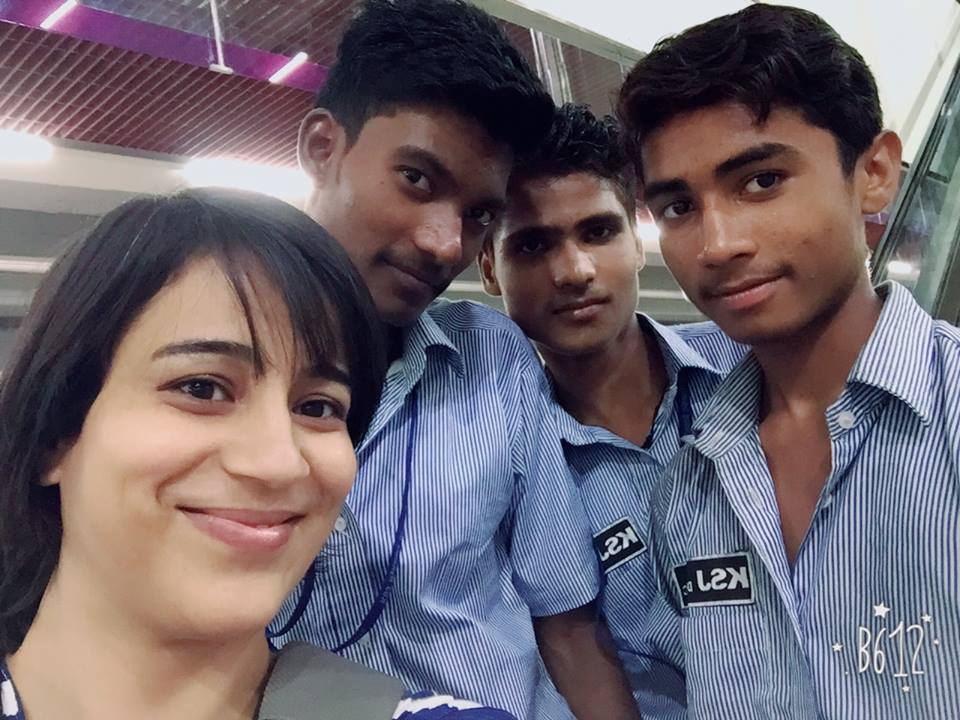 The Delhi Metro Housekeepers
And here is another favourite selfie, taken while traveling on Delhi Metro's Heritage Line last year. It was around 11 in the night and as I waited at the Lal Quila metro station, I saw these young men from the housekeeping/cleaning department starting with their assigned tasks for the night. I got talking with one of them and it was interesting to learn about their job and their perspective on the stations part of the Delhi Metro Heritage Line.
If the new stations on this line look all spic and span, it's thanks to the hard work of these people and their colleagues.  They are on the job from 10 in the night to 6 in the morning…scrubbing granite floor work, wiping steel railings, polishing glass, and mopping platforms…a whole lot of work through the night.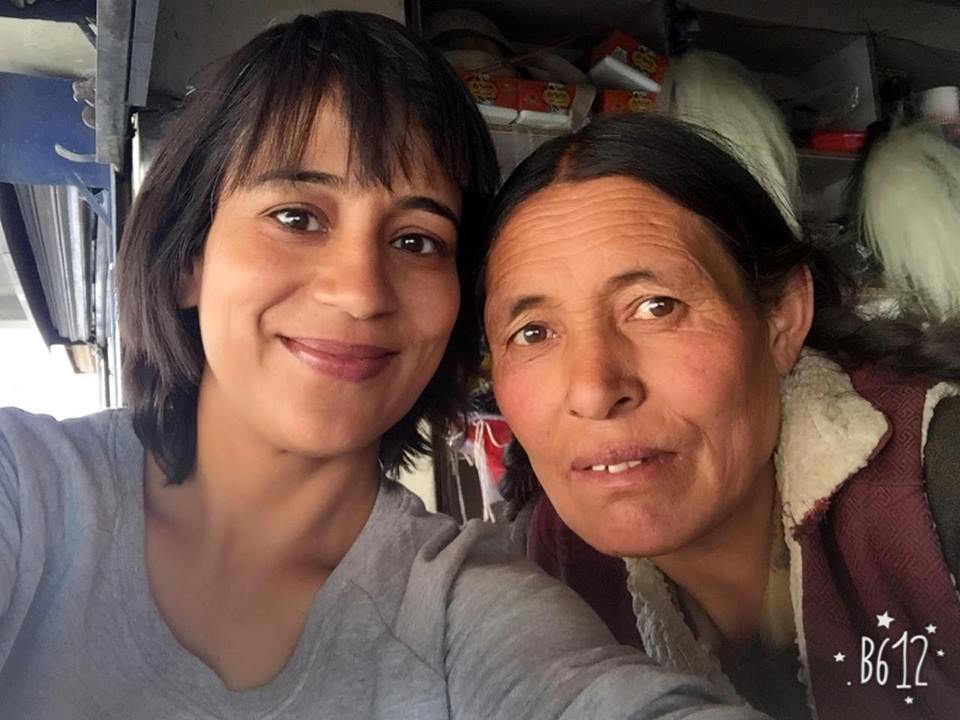 Selfie Stuck in Ladakh
And here's another one of my favourite selfie! The lady next to me in this selfie is the owner of the Stanzin Restaurant and Homestay at Durbok, a small village in Leh district. While on the epic #HighestBloggerMeet trip to Ladakh last year, we stopped at her little restaurant for a quick cup of tea before our journey onwards. And what do you do when the tea at the dhaba is still too hot for another sip? You take in the surroundings, chitchat with the native dhaba owner and of course, take a photo for posterity! When I look at this picture I recall her warm smile and her childlike eagerness to be clicked.
So these are some of my favourite selfies from the last couple of years of travels. While I am still a selfie novice, I love how the few that I have managed to get right reflect so much about my wanderings. What is your take on selfies? Do you love the front camera? This reminds me – if you are a keen selfie snapper here's some good news for you – with the arrival of Mobiistar dual selfie camera that captures a 120° wide-angle shot, you can now have much better selfie experience.
Mobiistar is a Vietnamese smartphone brand that has now launched in India and partnered with Flipkart to market their Selfie Star Series smartphones. With its vision of 'Enjoy More' the brand aims at selling affordable smartphones with front, dual selfie camera that captures a 120° wide-angle shot and strong battery life as their USP. The rationale behind 'Enjoy More' is driven through the product's functionality and aimed at giving users a meaningful selfie experience which means the users can get more of the picturesque background into the frame and not have to worry about fitting in everybody either.
To learn more about the technical specifications, price, availability and launch date of Mobiistar smartphones, please visit – http://mobiistar.in/ and Mobiistar on Flipkart.
Hope you enjoyed this post.  And if you have any favourite selfie, I would love to read about in the comment section below!