During our travels, we get to stay in a variety of accommodations as per our travelling style and budget. While memories of run-of-the-mill hotels fade away faster than the dullest ink, recollections of unique stay experiences and accommodations remain fresh in a traveller's memory for quite a long time. During my recent Nepal trip, I had the opportunity to stay at Dwarika Chhen, a charming boutique hotel in Kathmandu, and this stay did not just leave me with happy memories to cherish but also underscored my preference for boutique properties.
Here's a little note on what makes Dwarika Chhen a unique stay option and why spending 3 days at Dwarika Chhen was a fantastic start to the 9-day long Nepal trip.
Behind the name 'Dwarika Chhen'
Chhen in the Newar dialect means home. Newars, as you already know from my last post, are the original settlers of the Kathmandu valley and pride themselves as the custodians of the religion, culture, and civilization of Nepal.
So Dwarika Chhen translates to Dwarika's Home. This unique property is, in essence, a traditional Newari house that has now evolved into a small and well-managed boutique hotel. Formally, the hotel is known as World Heritage Hotel & Apartments but is popular in the community as Dwarika Chhen. Named after its owner Late Dr. Dwarika Prasad Manandhar, this hotel has been home to the Manandhar family for over 300 years and is now owned and run by Mr. Sagar Manandhar and his lovely wife Mrs. Sindhu Manandhar.
Hands-on hosts
If I were to give just one reason on why the stay at Dwarika Chhen stands out in my memory then without a doubt it would be the warm hospitality of the owners and staff at the hotel. Mrs. and Mr. Manandhar are the most hands-on hoteliers I have come across. From early in the morning until quite late in the night, they were out and about, asking after the hotel guests and supervising the hotel staff.
Mr. Sagar Manandhar, in particular, could be seen animatedly interacting with the guests and talking to him was like getting access to a goldmine of city knowledge! Not only I could ask him questions about the history of the Kathmandu Durbar Square but also got to learn plentiful trivia about Nepal's famous Indra Jatra festival.  Isn't it wonderful when you get the insider version about a country's festival rather than the textbook touristy answers!
Awe-inspiring architecture
One of the many things that I absolutely loved about Dwarika Chhen is its pretty architecture that seamlessly blends with the ancient buildings in the neighbourhood. The main red brick building of the hotel complex is embellished with ornamental wooden windows and doors.
Some window panels date back to over 800 years and it is incredible how they have been preserved all these years! While these windows added character to the facade, the ones inside my tastefully furnished room were just as delightful. Look at the window panel in the picture below, if only I had time, I would sit there and observe Kathmandu street life for hours!
Strategic Location
Dwarika Chhen cannot be more strategically located – the guests living here can walk out of the back door and step right in the middle of the Kathmandu Durbar Square, a UNESCO World Heritage Site. The hotel is located in the heart of the city, right next to the Durbar Square. The Durbar Square is a complex of ancient temples and shrines with incredible architecture and tops Kathmandu's must-see lists.
Savouring traditional Newari meals
It will be an injustice to Dwarika Chhen's hospitality if I do not mention its food here. The multi-cuisine menu here has a variety of Indian, continental and traditional Newari food. Though honestly, some Nepali delicacies are definitely an acquired taste but having tried a few items on the menu, I can say that I enjoyed sampling the local fare, particularly the samay baji set and poori bhaji.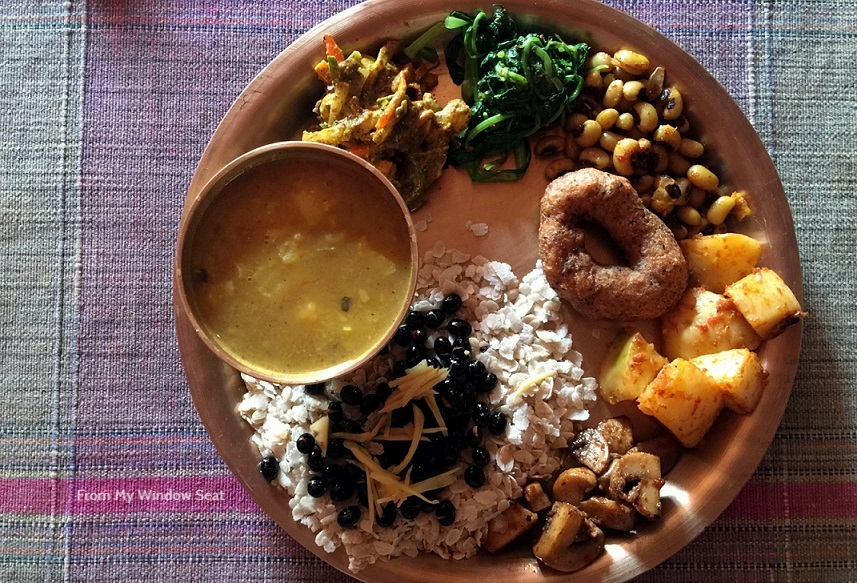 The only grouse was that sometimes the food took forever to arrive, but of course, when it finally did, the freshness and taste compensate for the endless wait.
Small on size, big on personality
Dwarika Chhen is not a very expansive property, and with most of its hustle and bustle centred around its courtyard, it makes for quite a cozy and homely hotel. So in essence at Dwarika Chhen, I could experience the best of both worlds – a homestay and a boutique hotel. The charming traditional setting, the intimate atmosphere, and the authentic Newari experience all made for an unforgettable stay experience.
If you are looking at trading the cookie-cutter experience of regular hotels with a stay experience that is more personalized and spirited then do consider Dwarika Chhen when you are in Kathmandu next.
You can know about the hotel from their website.
Note: My Nepal trip was sponsored by Explore Himalaya Travel & Adventure, in association with Nepal Tourism Board. The views expressed in the post are my own.
*This is not a sponsored post.