Welcome to From My Window Seat and thanks for stopping by. My name is Ragini Puri and I am the founder and owner of this travel website dedicated to chronicling my travel experiences from the road.
About Me
I am an India-based award-winning travel writer and blogger. I hold a post graduate degree in Mass Communication from the Indian Institute of Mass Communication (IIMC), New Delhi.
Before taking travel writing and blogging full-time, I worked as a broadcast journalist with some of the premier news channels in the country. These days I spend all my time travelling and exploring the less explored parts of my beautiful country, India.
About From My Window Seat
From My Window Seat is an award-winning travel website devoted to chronicling authentic travel experiences and stories.
It started off as a little virtual corner to quickly jot down my travel observations online. Over the years, the blog has evolved into a full-fledged website, with travel stories, travelogues, photo features and a whole lot of add-ons and frills from my journeys.
From My Window Seat – Solo Travel
I am primarily a solo traveller and have been travelling solo across India for almost 10 years now.
From My Window Seat focuses on these core themes:
Solo travel by an Indian female traveller and related experiences
Slow, local level grassroots travel
Focus on exploring the relatively lesser known heritage
Exploring and connecting to cultures through local food and customs
Traveling as a vegetarian
Volunteering towards sustainable and green tourism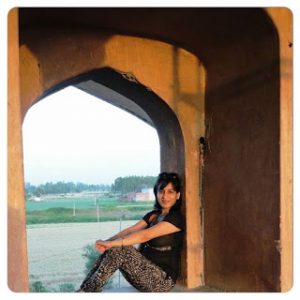 This is me posing inside one of the Mughal saraais in Punjab.
From My Window Seat Milestones
TV Show – Drive with MTV Season 2
And the most exhilarating of all – Becoming the first Indian Blogger to win a brand new car in a pan-India blogging campaign by Tata Motors.
That's all I have for you on this page folks — hope you have a nice time here and enjoy my travel stories. 🙂
—————————————–
Contact
For work-related queries, you can connect with me at:
Email: thewindowseatblog@gmail.com
Phone: +91-6283-477084
Other places you can find me:
Twitter: Ragini Puri
Instagram: From My Window Seat
Facebook: From My Window Seat