Update: In view of the recent outbreak of the Zika virus, Tata Motors has renamed its soon-to-be-launched hatchback Zica as Tiago. I got an opportunity to test drive this fantastic car in Goa a couple of months ago, and here is how the car feels like up, close and personal.
After going in for a massive design and technology overhaul with Zest and then upping the smart design quotient with their mid-range hatchback – Bolt, Indian auto giant Tata Motors is now all set to launch its latest offering in the entry-level hatchback segment – the stylish Tata Tiago. I got an opportunity to test drive the car recently and cutting straight to the chase, the first impression of Tata Tiago is winsome.
Assembled with the latest in design language and backed by segment leading drive and connect features, Tata Tiago justifies the taglines it has been introduced with – #fantastico and #madeofgreat. Let us look at the car through the features it has incorporated.
Designext – The Looks
With Tiago, Tata Motors has definitely upped its design and style quotient. This features-laden car is swanky to look at, thanks to the global design inputs from Pune, UK and Italy studios, which reflects in its fresh exterior and inviting interiors. The car exterior looks young and fresh, in line with the 'Zippy car' idea it promotes. In addition, the new Tata emblem and the signature hexagon grill too make the car stand out.
Tiago's interior gives a very upmarket feel with its stylish dual tone colour scheme and quality upholstery. The dashboard has been designed elegantly with all controls within easy reach and comes with the ConnectNext Infotainment System by Harman. Another smart design feature of the car's interior is the intelligent use of space – the interior has been cleverly designed to provide 22 utility spaces and a versatile boot space of 240 litres, which has a separate partition for the toolkit, and shopping bag hooks with weight markings.
Drivenext – Ride Quality
Launched in both, diesel and petrol variants, Tiago gives a refined driving experience. While test-driving the Tiago in Goa, the drive was super smooth and we reached the destination a little before time! A lot of credit for this goes to the engines – new Revotron 1.2L petrol engine and Revotorq 1.05 L diesel engines that have been developed in-house. Besides this, first-in-segment multi-drive modes – City and Eco – too go a long way in delivering both – fuel economy and peppy driving experience.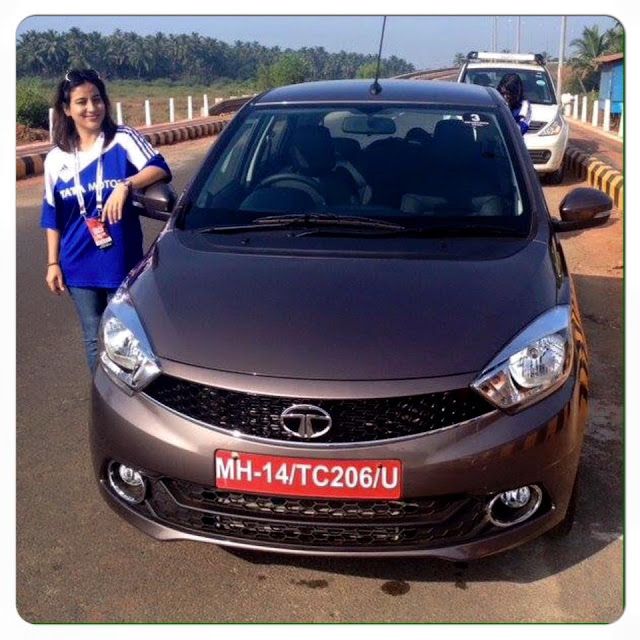 Safety is an important factor to keep in mind when buying a vehicle, and Tata Tiago fares fairly well in this department. The car is equipped with advanced dual-path suspension and 9th generation ABS (Antilock Braking System) with EBD (Electronic Brake Distribution) and Corner Stability Control for a safe and smooth ride.
ConnectNext – Information & Entertainment
Recognising the dynamic consumer world where connectivity is an increasing need for all, Tiago comes equipped with an infotainment and audio acoustics system designed exclusively by HARMAN. Taking the ConnectNext experience to the next level, Tiago has introduced new segment-first applications like Turn-by-Turn Navi app and the Juke-Car app. Turn-by-Turn Navi is a first-in-segment application that displays turn-by-turn navigation when connected to a smartphone via Bluetooth. The app also provides guidance on ETA and next manoeuvre, which helps in simplifying navigation while driving.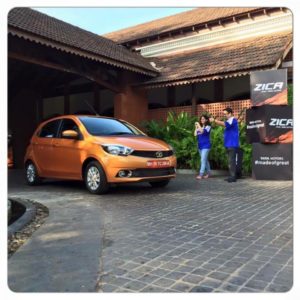 The Juke-Car app, another first-in-segment feature, utilizes mobile hotspot to create a virtual network and host a service for sharing a list of available songs in the device. All connected devices can view the song list on the hotspot and can queue their requested song in the playlist.
Tiago: A Fantastico Car
With Tiago, Tata Motors' design and engineering teams have brought out a product that is going to be a tough competitor to its rivals. Of course, mileage and pricing will play a significant part in how the market takes to the car. The brand is yet to reveal the price bracket it is looking at for both the variants. For now, the icing on the peppy Tiago cake is Tata Motors' new global ambassador – football icon Lionel Messi who is endorsing the brand's #madeofgreat campaign. Surely Messi's association and design and technology aces will go a long way in altering and boosting Tata Motors' brand image in public.
Tata Tiago will hit the market sometime in March. You can learn more about the car here.
Hope you enjoyed the post. A detailed account of my Tata Tiago drive is shared here –
The #Fantastico Tata Tiago Test Drive in Goa
You can also read about my Goa weekend with Tata Motors – A #Fantastico Goa Weekend with Tata Tiago.
Thank you for your time. 🙂