There's an additive buzz in the perennially bustling streets around the Jama Masjid. As I walk out of Jama Masjid Metro Station and onto Matia Mahal Road towards the mosque, this flush of excitement washes over me, along with a strong gust of hot summer air, leaving me with goosebumps for some long seconds.
I crisscross my way through the crowded road lined with fruit vendors hawking their dates and mangoes and apples, my mind full of curiosity, my heart brimming with excitement.
I am at the Jama Masjid, one of India's most popular mosques, to experience iftar, the evening meal in the holy month of Ramzan, where Muslims break their day-long fast (roza) after sunset.
Ramzan refers to the ninth month of the Islamic calendar and is considered to be the holiest of the twelve months. As per Islam, in the month of Ramzan, the Prophet Muhammad received divine revelation, and Allah sent down the Holy Quran to him.
It's my first time witnessing a mass iftar, that too at the grand Jama Masjid, so to understand the going-ons better, I have joined an iftar gathering hosted by Unzip Delhi, a cultural endeavour that aims at enlightening people about Delhi's rich culture and heritage.

The steps leading up to the mosque are crowded, with touts and alm-seekers vying for the attention of visitors headed inside. Inside, the huge courtyard is abuzz with preparations for iftar – dastarkhwans (dining spreads) are being laid out, devotees are bent over at the beautiful hauz (large open water tank) for wazu (ritual ablutions), families that have carried their own meals are settling down on their mats to wait for the iftar announcement, photographers and curious visitors are trying to capture the evening in their cameras.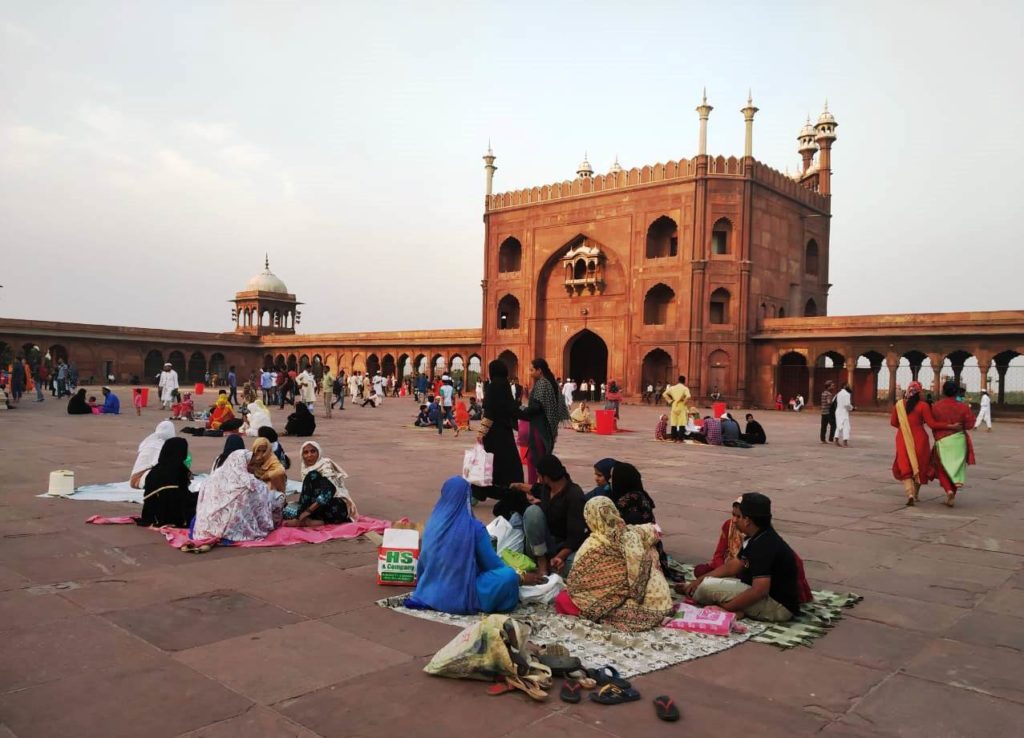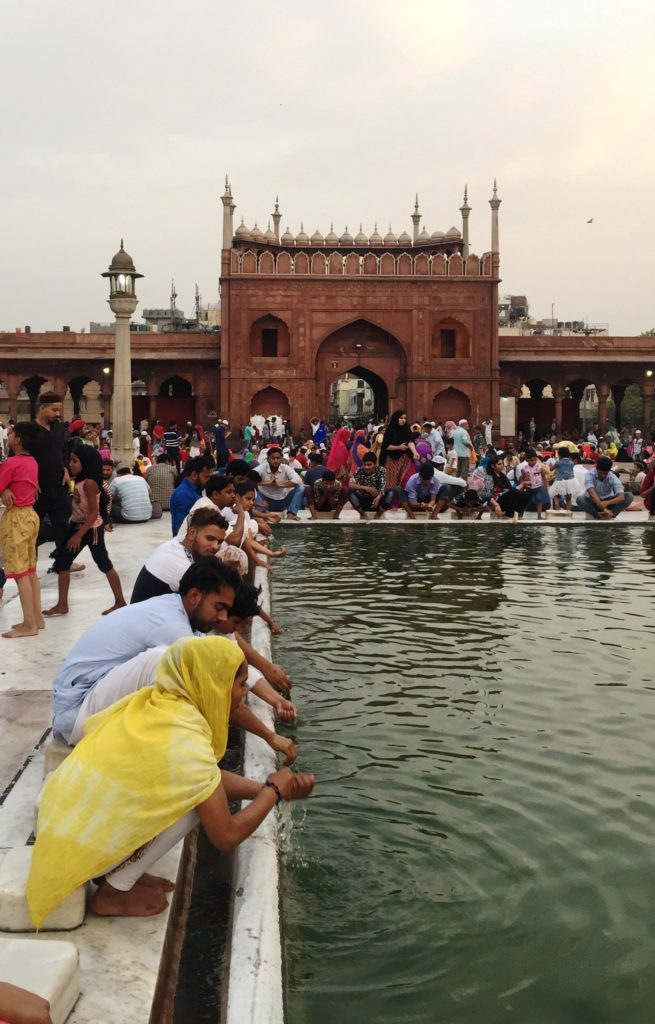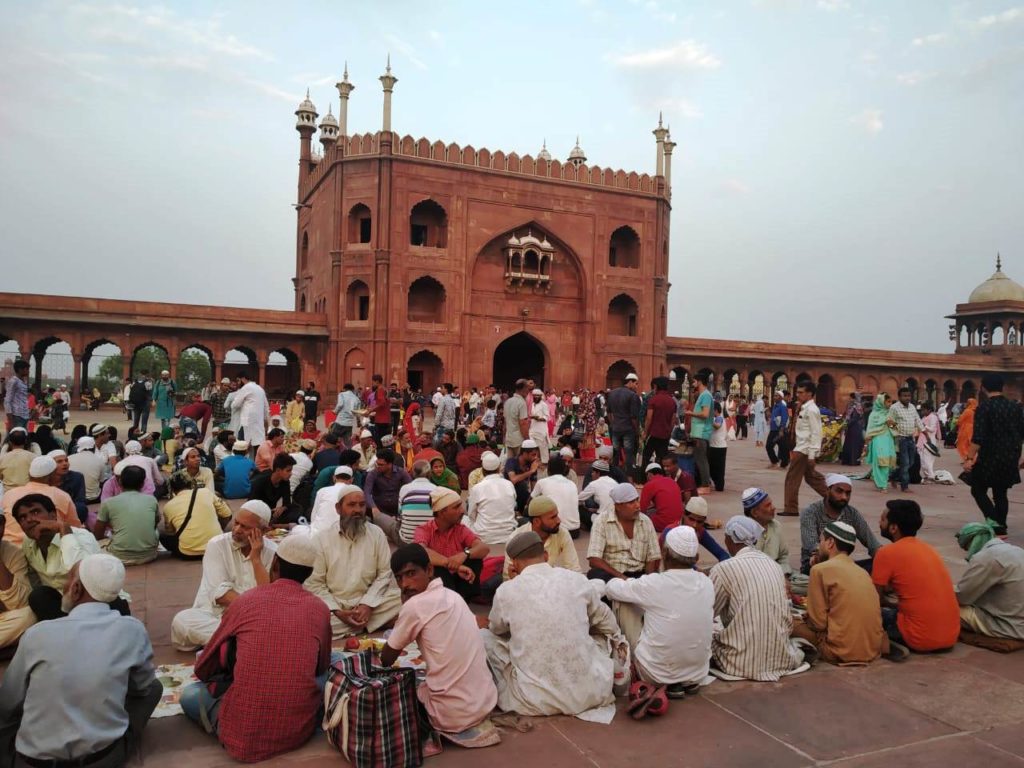 The sun is on its way down and soon it will be below the horizon. As our motley group of heritage lovers settles down in one corner of the courtyard, Anas and Rumaizah from Unzip Delhi unpack the food and drinks they have brought along for everyone. We also have snack items brought by the members of the group. Soon our dastarkhwan is packed with a variety of fare – there are packets of dates (khajoor), different types of fritters, or pakodas as we call them, chickpea salads, dhokla, lots and lots of fruits and a water cooler full of chilled Rooh Afza.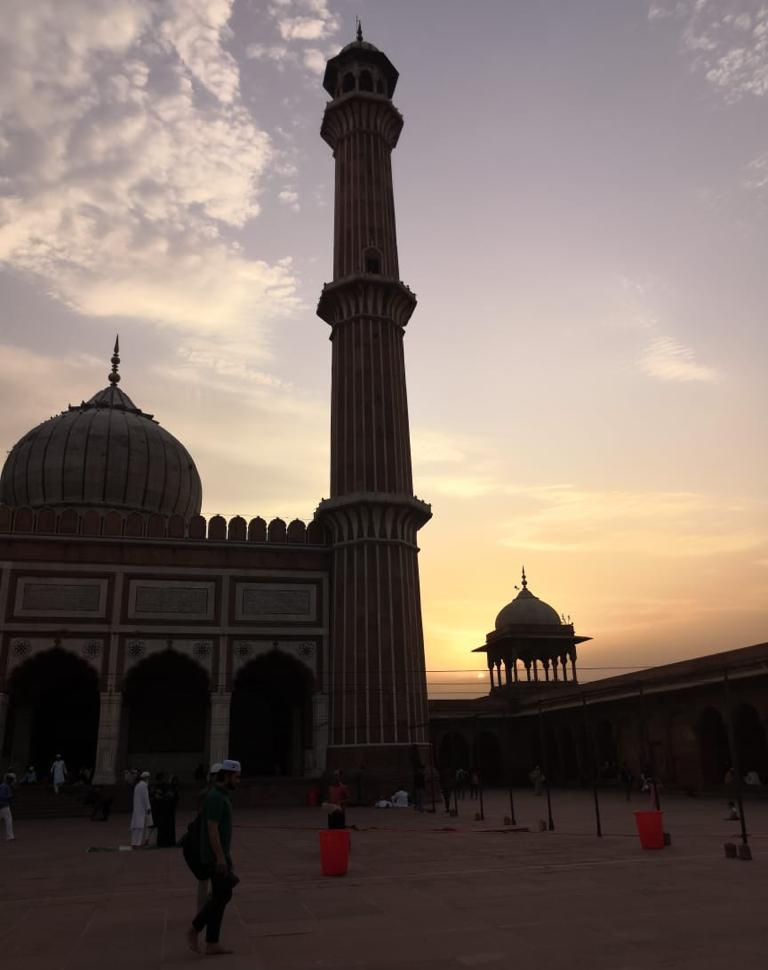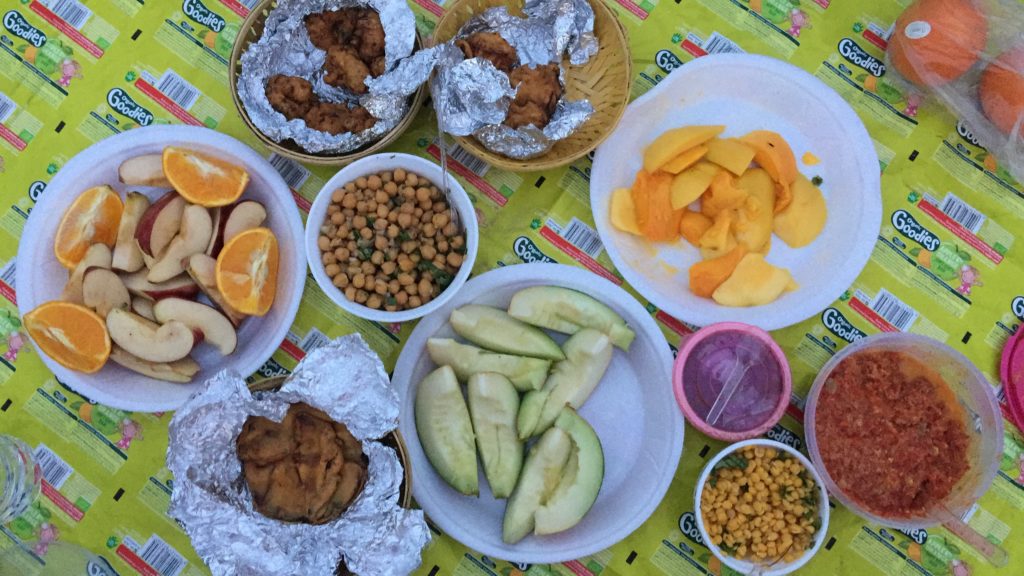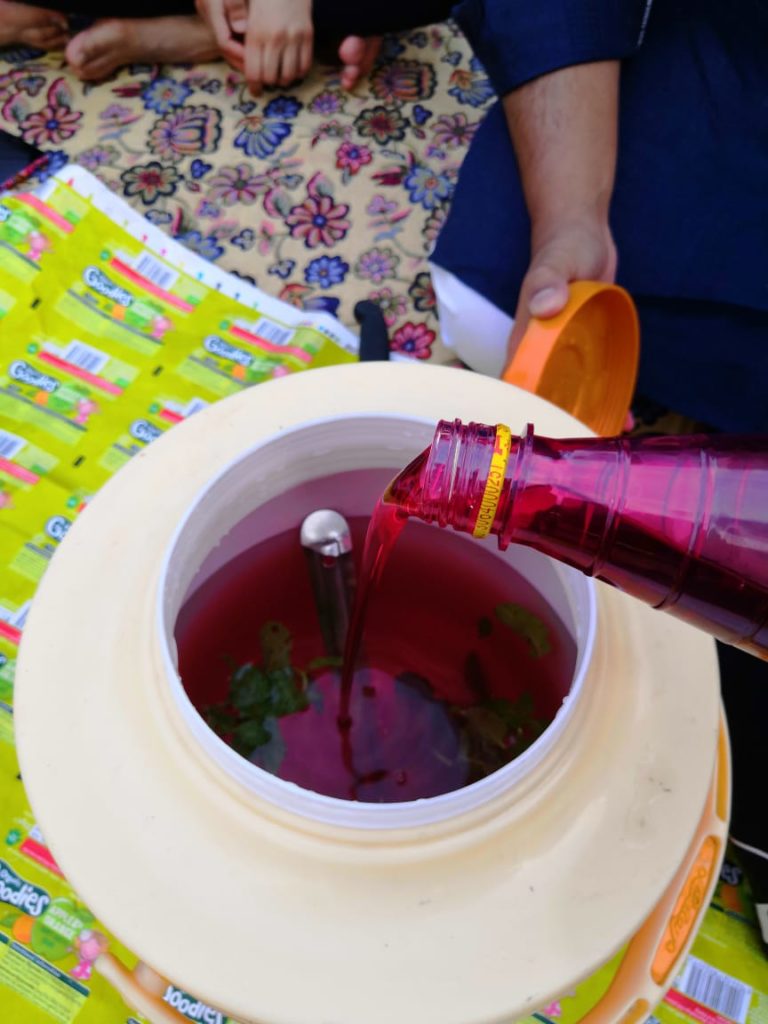 In between setting up the food, Anas explains the basics about the significance of the holy month of Ramzan and insights about the ritual of fasting. It is nice to learn more about a religious practice I had only read about in school books. Just as the group's attention diverts towards food menu for the evening, crackers go off somewhere in the mosque courtyard, followed along by call for evening prayers signally the time to break the fast with the iftar meal.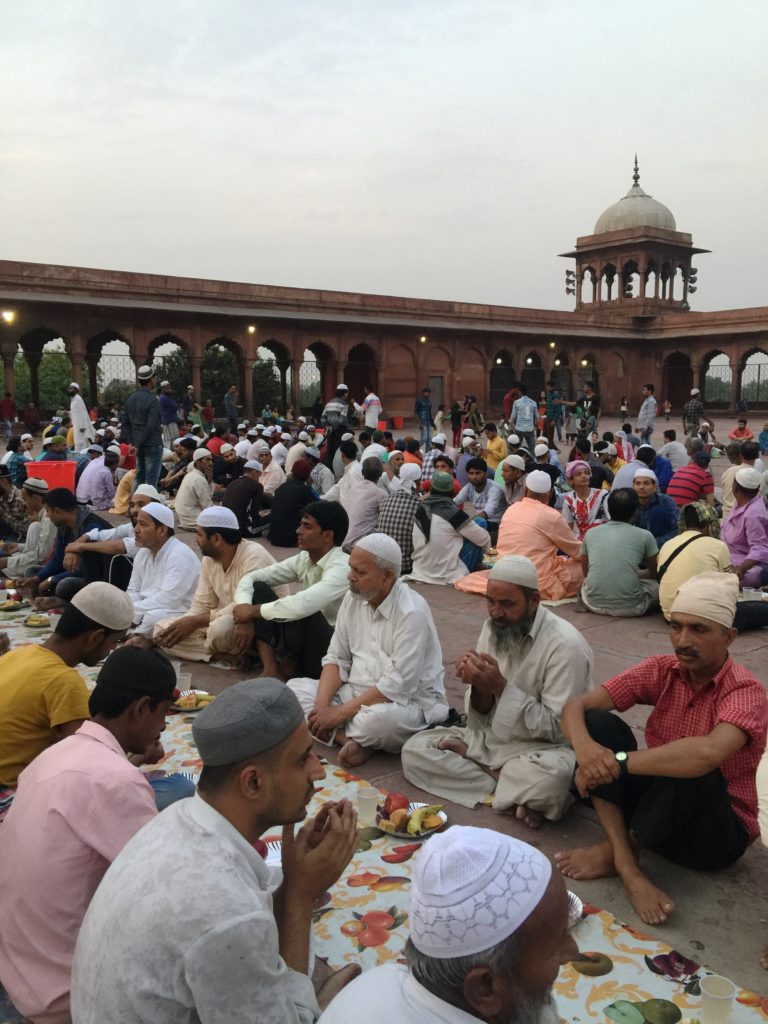 We all start off with dates and water first, which is the traditional way to break the fast. While I'm not fasting, I have not had water inside the mosque out of courtesy for those fasting, and now after all this wait, even a sip of water is a huge relief. I cannot help but marvel at the devotion and patience of people who fast in the harsh summer month and still go about their daily chores day after day for 30 days at a stretch.
As we indulge in the iftar spread in front of us, our conversation is interrupted intermittently by street kids asking for portions from the iftar platter. None of them is sent back empty handed as sharing food forms an important part of the ritual, giving a sense of togetherness to all partaking the food.
Soon it's time to wrap up as the crowds start thinning and cleaners start calling out to vacate the courtyard so they can get on with the cleaning. It's time to say our goodbyes and I thank the hosts for the beautiful evening and the lovely food. The Jama Masjid stands glittering in the night.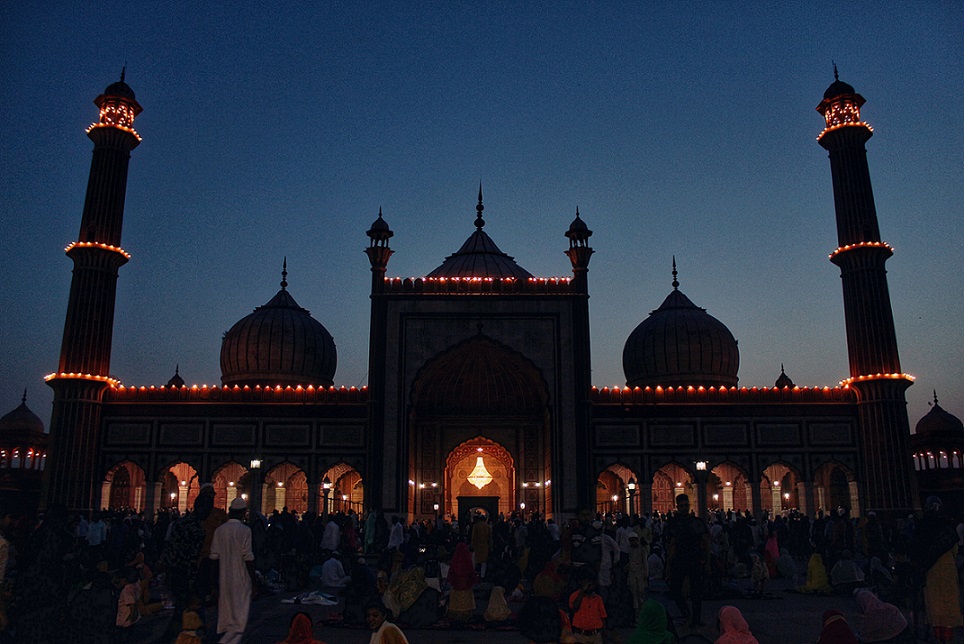 Up until this evening at Jama Masjid, iftar was just another random word for me. I had read about it in school and knew about the concept of Muslims breaking their day-long fast post-sundown during the holy month of Ramzan, but experiencing this ritual first-hand has now given me a better understanding of not just iftar, but also the history behind Ramzan celebrations.

Isn't it amazing how if we look and explore beyond our pre-set perspectives, we learn so much about faiths that are different from ours? And also how, at the end of the day, despite the different customs and rituals, all religions preach nothing but mutual love, kindness and humanity. Only if we pause, and reflect about it daily, the world can be a much better place to live in.

How to get there:

Taking the Delhi Metro is the most convenient way to travel to Jama Masjid.
The Jama Masjid Metro station lies on the Heritage Line Stretch of the Delhi Metro. An extension of the Violet Line (ITO-Escort Mujeser), this underground section comprises four stations — Kashmere Gate, Dilli Gate, Jama Masjid and Lal Qila. The mosque stands at a little walking distance from the Jama Masjid Metro Station's Gate no. 1.
If you are travelling on Yellow Line, the nearest station is Chawri Bazar. From here, you can either take a cycle rickshaw or walk.
You can travel there by car as well, but given the congested traffic scene, it is not advisable.
******
If this has piqued your interest, you can connect with Unzip Delhi to experience this first-hand. They are also into curated heritage walks, so if you want to explore history, heritage, culture and food of Delhi, you can look them up on Instagram and Facebook.
Also, I've shared a lot more photos and observations from the evening on Instagram story highlights.
If that interests you, you can find me at @frommywindowseat. Looking forward to seeing you there!